The Mega Moolah Jackpot has reached to a whopping £17 Million!
Almost overnight, one of the biggest and well known online progressive jackpots ticker has reached the £17 Million marker. It's actually unliveable! This means that if you make the Mega Moolah bonus wheel randomly go off, then you could set yourself up for a super cool £17 Million win. Amazing right? It's almost as big as the Euro Million Jackpot – and only you would take the prize home!
What is Mega Moolah?
Mega Moolah is actually one of the oldest progressive slots online. It was first launched in 2009 by Microgaming, and as the name suggest it's offers a huge jackpot. Back then it was one of the few slot games to offer a guaranteed £1 Million jackpot at an online casino. Still today does it boast a minimum of a million, but as we have seen in the past, previous Mega Moolah jackpot winners have won anything from £5 Million to £13 Million – todays jackpot (at the time of writing) is the biggest ever Mega Moolah jackpot – and the biggest ever in the history of online slots!

How to Play Mega Moolah
Mega Moolah is probably one of the easiest games to play online. And even thought it boasts such a jackpot, don't be fooled into thinking this is a modern online slot, because it's not. In fact, that's the beauty of it; the game design is pretty basic. It looks exactly how it did when it was launched over a decade ago - Microgaming hasn't touched it. Why fix something that ain't broken, as the saying goes.
There have however, been other variants of the game launched over the year, each offering different themes but still the same eye watering jackpot. Other variants include Mega Moolah Isis (Ancient Egyptian theme) Mega Moolah Summer Time (beachy and all Summery) and Mega Moolah 5 Reel Drive (Classic themed) but the original Safari themed Mega Moolah is still a hit and favourite among online slots players. You can read our full Mega Moolah review here.
How To Win The Jackpot: Tips & Strategies to bear in mind
Now obviously, we can't tell you a fool proof way to win the prize money, but there are a few things you should keep in mind when you play Mega Moolah Slot. First of all, like any online slot game, the outcome is totally random. There isn't any clear cut strategies to help you win there isn't any hidden secrets on what will work or won't work, but since this game is relatively high variance, it does help to bet big.
In fact, you have a much better chance of getting the bonus wheel to popup (which is what you need to see on the screen to have a chance at winning the mega jackpot) when you are betting high per spins – the bigger the better. The max bet in the Moolah game is £6.25. Now, we understand that might not be to everyone's liking, but the max bet on this game is a lot lower than some other games out there.
You also need to be playing this game with a mind-set that you are in it for the long game. Pace yourself, mentally and also bankroll wise and it might just pay off if you are lucky. And even if you don't manage to bet the big jackpot, then there will be other wins coming in too. There are 2 other smaller progressive jackpots and of course the regular wins you can get from the free spins feature.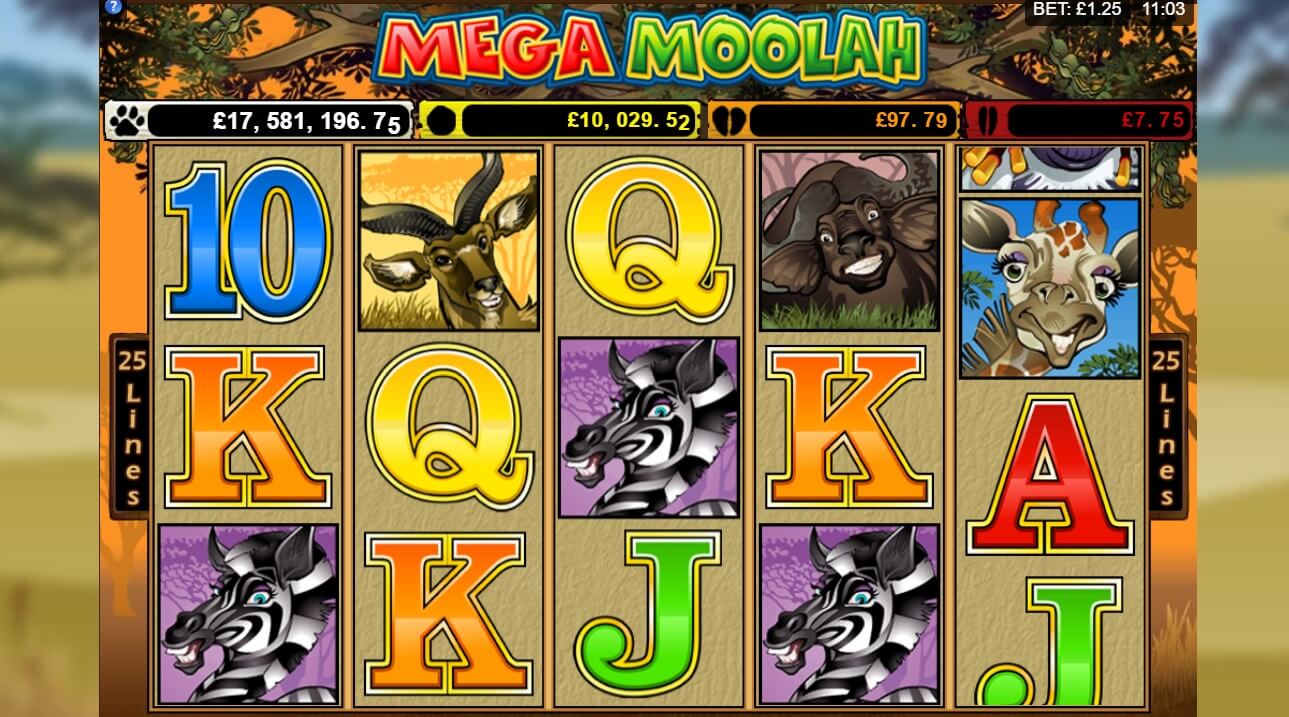 Where To Play Mega Moolah Slot: Our Recommended Slot Sites
Only the best slot sites offer this game but the good news is that there are plenty of them to choose from. Below we have listed our top 5 picks of the best casinos to play Mega Moolah this weekend. The each offer amazing new player sign up bonuses which will help you double up your deposit and more to have a better change for playing Mega Moolah longer. Good Luck!