Cosmic Fortune Review
While Cosmic Fortune is one of the 'lesser-known' NetEnt progressive slots, it still manages to pack a real punch. This is a game that you are genuinely going to love from start to finish. The team here at New Slot Site certainly do.
How to Play Cosmic Fortune Slot Machine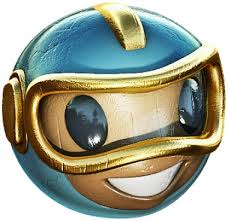 Cosmic Fortune is a progressive slot from NetEnt. It offers 5 reels and 15 paylines. The minimum bet per spin is 15p. The maximum is £75. The maximum bet is actually on the lower side of things when it comes to progressives, particularly those from NetEnt.
The slot actually looks decent. This surprises us. Cosmic Fortune has clearly not been designed to be one of the main progressive slots for NetEnt.
You would be forgiven if you thought that they would not pay much attention to the detail in the slot. They did. It is wonderful.
From the very first cutscene (yes, there is an opening cutscenes) to the minute you close down the slot, you are going to be enthralled by just how pretty it looks. The space theme works incredibly well in it.
There is even a mobile version of the slot available. We must admit, we do spend most of our time playing online slots on our desktop computer.
However, we did give Cosmic Fortune a boot up on our mobile devices and it looked absolutely wonderful. Although, to be honest this is exactly what we have come to expect from NetEnt.
Cosmic Fortune Slot Machine Bonus Features
The feature that you will most-likely be encountering the most in Cosmic Fortune will be your cascading reels, sometimes known as the avalanche feature. If you have played any online slot in recent years then you will know that this means that if you are lucky enough to secure a win, the symbols will disappear from the reels and new ones will fall into their place. This gives the potential to win multiple times on as ingle spin.
Free Spins are earned in two ways. The main way is when you get 3 of the scatters on the reels at once. The second is when you get winning paylines. The symbols that form these winning paylines are collected and added to a 'free spins' meter. Fill up this meter and you will be enjoying free spins.
The jackpot feature is where you can win your progressive jackpots. There are five of them available. I won't go into too much depth on this feature as it is simple. Basically, balls will fall out of the spaceship. Fifty of them. They will give you cash prizes.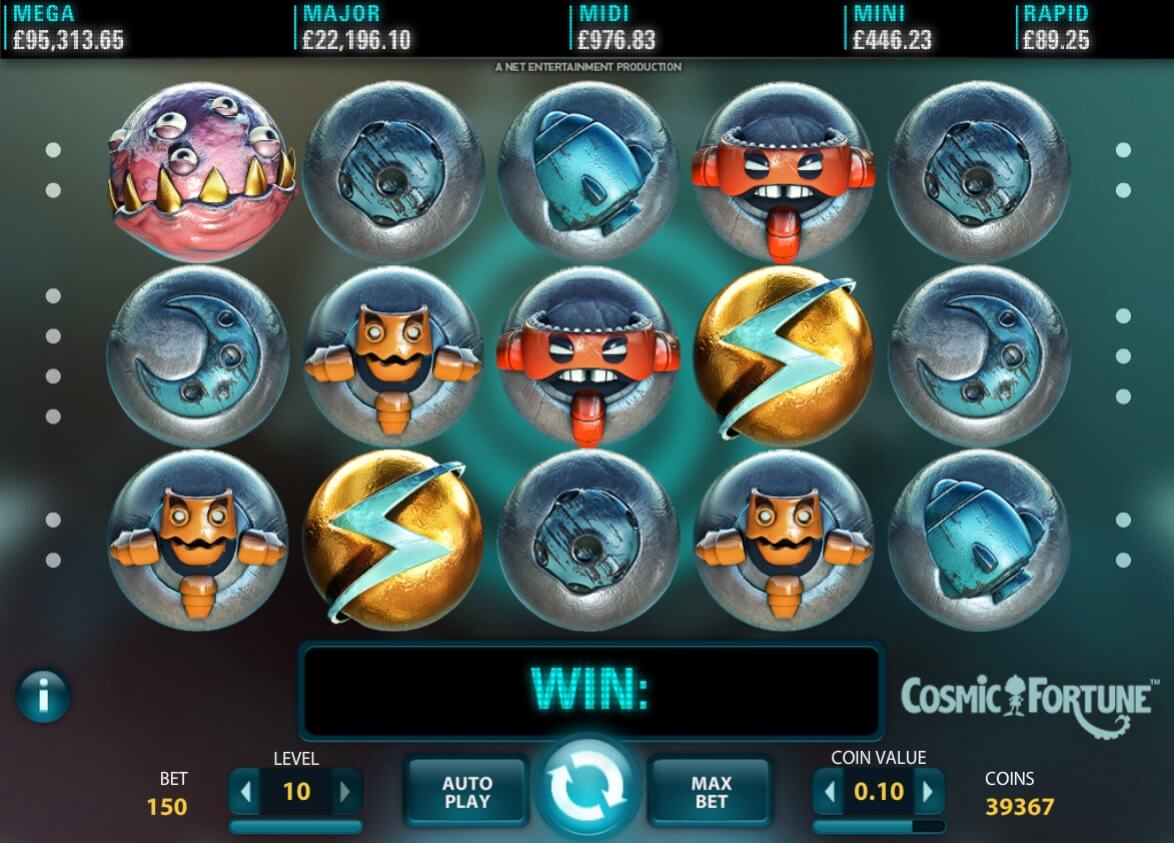 Cosmic Fortune Slot Tips, RTP% & Jackpot
Cosmic Fortune is a low to medium volatility slot. The RTP is 96.90%. Of course, since this is a progressive slot, it means that the maximum jackpot changes up a lot. Think along the lines of a million pounds or so. Although, since Cosmic Fortune is not a progressive run on all online casinos, the prize is often a bit lower than this.
It is rare to find a progressive slot which is on the low to medium volatility side of the market. The major benefit is that you can now become a bit more experimental with how much you are betting with your spins.
When we play Cosmic Fortune, we play at around 1/20th of our bankroll per spin. Although, we encourage you to get to around 1/50th. This is because there is not much to win in Cosmic Fortune beyond the progressives.
If you are not targeting the progressives, then you are going to walk away with very little. Well, you aren't going to have fun while you are playing, at least.
Summary of Cosmic Fortune Slot Review
While Cosmic Fortune is not one of the most exciting slots in the world, it can still be fun to play. Remember; half the fun when you are playing at an online is trying to win some of that sweet cash. I, personally, love the thrill of the chase and I am positive you will too.
This is one of those mindless slots where you can have a couple of spins safe in the knowledge that you are unlikely to make any major loss.
Of course, if you want to play Cosmic Fortune, you are going to need to head to an online site which offers NetEnt slots. As mentioned previously, not every company offers Cosmic Fortune for some reason.
This means that these online casinos can be a bit tricky to find. Thankfully, our team have tossed together a few suggestions for you below!
Where To Play Cosmic Fortune Slot
BeGambleAware®