Highlander Slot Review
Microgaming have been pumping out some top-notch slots as of late. The Highlander one is the latest in their arsenal, and boy is this movie-themed game fun to play. Let's take a look, shall we?
How to Play Highlander Slot
Highlander has 5 reels and 243 ways to win. If you wish to get started, you will need to put up a minimum of 40p per spin. The maximum is £30 per spin.
The game is based upon the Highlander movie. We can't say that this would have been our first-choice themes when it came to making a game, but I guess that is why we do not work for Microgaming.
Anyway, it does not matter all that much, the actual gameplay is where the real 'action' is at when it comes to slots, and boy does this game have some terrific gameplay.
The theme of the game is brilliant anyway. I have not personally watched the Highlander movie, but I have spoken to several people that have and they say that this game captures the essence of the movie well. However, I enjoyed the game despite not seeing the movie, so do not think that you need to be a fan of Highlander to enjoy this slot because you really do not.
Highlander Slot Machine Bonus Features
There are a couple of features built into this slot. None of them are tremendously complicated in terms of what they do. In fact, you likely will have encountered them in several places already.
Wilds: Obviously, you have your wild. It does not do anything that special other than act as a replacement for other symbols in the game (not your scatters). They pop up often too, which means that you should be able to round off a few winning lines with the wilds.
Scatters: If you get 2 scatters on the reels, then they will transform into wild symbols. This is a nifty little feature. It comes in handy on occasion to and a number of my wins have come courtesy of the 2 scatters. Of course, I would have loved to have had 3 scatters more as free spins are amazing, but I can't complain about OF wilds, can I? This is where I think that Highlander is a decent slot.
Most other slots tend to tease you with two scatters and not give you anything. At least this way you don't get that 'tease', you get something, even if it is not as great as getting three scatters on the reels.
Free Spins: If you get 3 scatters, you get 10 free spins. You can't trigger any more free spins. In this mode, you will have a featured called 'Quickening Wilds' in place. This feature, on occasion, tosses some free wilds onto the reels. They really start to add up over time too. You will likely not be triggering free spins all that much, but when you do, it is an 'adventure'.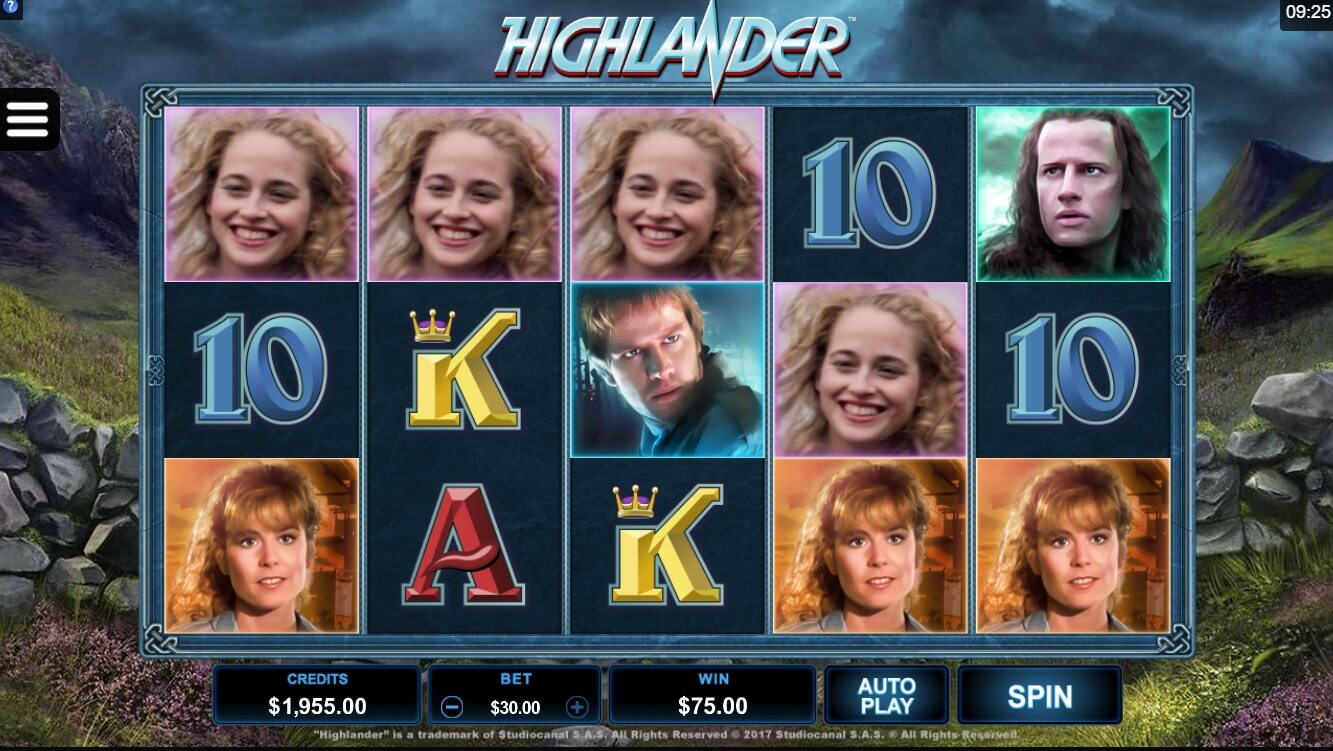 Highlander Slot Machine Slot Tips
This is a medium to high volatility slot. If you really wish to get 'something' from it, then we suggest that you bet down the lower end of things. If you do not, then you are going to be blowing through your bank roll quickly.
For us, we found that betting close to the 40p per spin mark was enough. The wins came in frequently enough, or at least it seemed like it. It also meant that we were able to play long enough to ultimately trigger the free spins mode which is where the real big wins are.
Due to the way in which Highlander works, you do not really need to 'think' too much when you are playing it. It is just mindless fun that pays out on occasion, which is nice. However, this can be somewhat of a 'trap' because when you do not need to think, your bank roll disappears very quickly, so do keep an eye on that!
Summary of Highlander Slot
Highlander is a fun slot. It looks good. It sounds good. It has some decent features, what more could you possibly want from a game? This is a slot which is probably going to be best for those new to the world of slots, although some experienced players may also enjoy it too.
You can play Highlander slot machine on any website which offers Microgaming slots. There are a couple of suggestions below for you to dip into!