Asgardian Stones Slot Review
Asgardian Stone is the latest slot from NetEnt. While it does not break any new ground on the feature front, it does look gorgeous. It is one of our favourite slots in a while at least.
How to Play Asgardian Stones Slot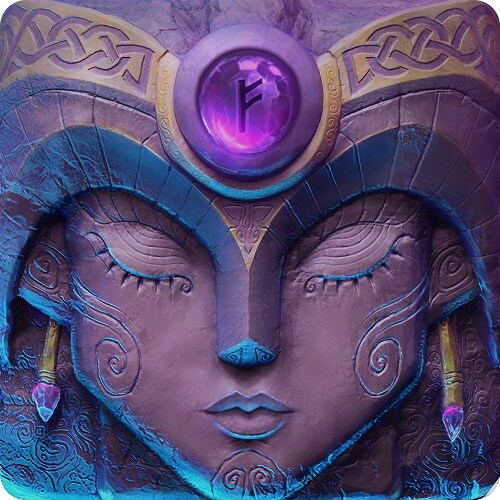 Asgardian Stones is a slot machine from NetEnt. Fairly traditional video slot. It offers 5 reels and 20 paylines. Minimum bet per spin is 20p. The maximum is £200.
Asgardian Stones is another game in a long line of mythology-themed slots from NetEnt. This time, however, they have decided to blend two different pieces of mythology into one.
The game is set on Asgard, but Mount Olympus also plays a role. So, you have Norse Mythology and Ancient Greek Mythology. Odd combination, but who cares? The game works.
We can't tell you much about the story of the slot. What we can tell you, however, is that the game looks wonderful. In fact, we reckon that this is one of the best-designed NetEnt slots in a while.
This is especially apparent if you are going to play it on a mobile device. It just 'works'. In fact, it looks better on a mobile device than it does if you played it on your desktop computer.
Asgardian Stones Bonus Features
There are three main features that you will find in Asgardian Stones. All of these have appeared in NetEnt slots before, but they tend not to appear together:
Avalanche Reels: this is a staple feature from NetEnt in recent years. With this feature, whenever you score yourself a winning combination the symbols that make up that combination will disappear and new ones will fall into their place. This means that you could win multiple times on a single spin.
All symbols in the game can now appear as Colossal Symbols. Well, all except the wild. They will be 2x2 or 3x3 blocks. When they appear, you have a greater chance of winning. There is also a chance they can squash the symbols below. For each row they squash, you get an extra 1x multiplier (up to a 4x multiplier)
Free Spins: collect three of the relevant symbols and you could get up to 12 extra spins. No multiplier here, but the wild can be a colossal symbol.
Asgardian Stones Slot Machine Tips & Rtp %
Asgardian Stones is a medium to high volatility slot. This can make it difficult to work out what your overall playing strategy should be.
Generally speaking, you will want to keep your bets on Asgardian Stones relatively low. Why? Well, because as you saw from the previous section, there are three fairly lucrative bonus features.
Whenever you have this many bonus features, you know that you are probably not going to be winning much unless the bonus features pop up. The avalanche feature is a good indicator of this.
Whenever you can win multiple times on a single spin, you know that there is going to be a good gap between your wins. This means that if you have a low bankroll and you are betting high, you will lose out.
In our opinion, no matter how high your bank roll is (unless it is well into the thousands of pounds, which we doubt it is), then stick as close as possible to that 20p mark. We are positive that you would much rather have a longer time playing than hoping and praying for a big win on larger bets.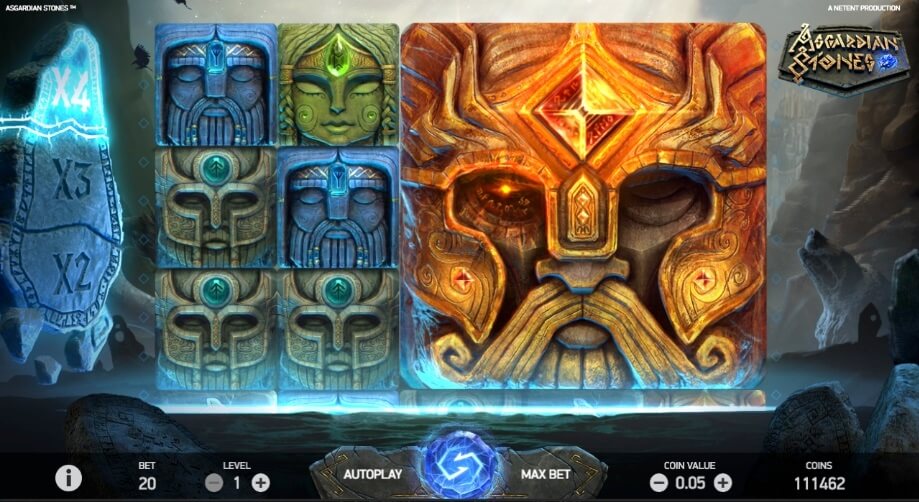 Summary
Asgardian Stones is a good slot. As we said in that little introductory part, it does not really break any new ground. There are no features here that you will not find anywhere else.
However, NetEnt does try to wrap up some of their most popular features into a single slot machine. For the most part, it does work, although it does result in a slot which may be a bit too high in volatility for some people.
Honestly, we do recommend that you check out Asgardian Stones. It is the least that you can do. It is evident that NetEnt have put a lot of time into developing it. You probably will fall in love too. Just be prepared to be in it for the long haul if you want to make the most cash.
Of course, if you wish to play Asgardian Stones then you will need to head to a website which has NetEnt slots. Thankfully, we have put in all the hard work for you. Below, you will find a list of some of the best online slot sites around. Check them out!