Bloodsuckers 2 Slot Review
Loved Bloodsuckers? You are going to love the sequel, aptly named 'Bloodsuckers 2' even more. In fact, this game is surprisingly wonderful. Let the team here at New Slot Site take you through everything the game offers!
How to Play Bloodsuckers 2 Slot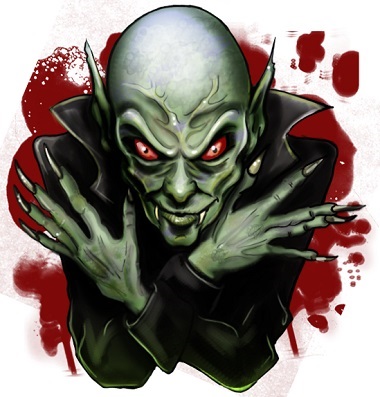 Blood Suckers 2 is as NetEnt video slot. It offers 5 reels with 25 paylines across them. The minimum bet per spin is 25p. The maximum bet per spin is £250. We doubt you will be gambling anywhere near the upper mark, but good on you if you can!
Blood Suckers was an awesome slot from NetEnt. It came at just the right time in the middle of the vampire craze. Honestly, releasing a sequel to the game was a bit of a risk as there is no guarantee that people would play it. There was already Blood Suckers, and Vampires are old news now.
Thankfully, Blood Suckers 2 seems to be even more popular than the original game. We have no doubt this is down to the fact that it has been given a major upgrade in the looks department. It looks nowhere near as dark and dreary as the old version of the game. In fact, this is probably one of the best-looking slots we have encountered.
The mobile version is just as stunning as the desktop version of the game too. In fact, we are in awe at just how NetEnt managed to get this game running smoothly on some older devices (we tried it on a few different ones). Kudos to them there.
In terms of how to play Blood Suckers 2, it is pretty much standard 'NetEnt-fare'. This game has been built for beginners. There are some bonus rounds, but it is really a case of just hitting the spin button and then raking in the wins. Nothing too crazy.
Bloodsuckers 2 Slot Machine Bonus Features
Two of the features that you will encounter in Blood Suckers II are 'randomly' triggered. From what we can tell (and we have had a good few hundred spins on this slot), they do pop up quite regularly:
Scatter Shot: one extra scatter is shot onto the reels. This will trigger the 10 Free Spins feature if you have three scatters (we don't think the scatter shot occurs without triggering the bonus round, or at least it never did for us)
Bonus Shot: one random overlay bonus symbol is added to the reels. If you are lucky enough to get three bonus symbols on the reels, then you will trigger the Hidden Treasure Bonus feature. It is probably worth pointing out that unlike other slots, you will need to get all three treasure symbols on consecutive reels from the 1st reel. If you get 4 of them on the reels, all your wins during this feature are doubled. If you get five, all your wins will be tripled!
Also during this feature, you will be asked to choose chests. In these chests could be coins, keys, scatters, or a demon. If you collect three scatters, you trigger the bonus round (more on that soon). If you get a key, you advance to the next level. There are five levels. If you get a demon, that is the end of the feature.
Free Spins Feature: The Free Spins feature gives you 10 free spins when you get three scatters anywhere on the reels. You can trigger more during this feature. All wins are subject to a 3x multiplier.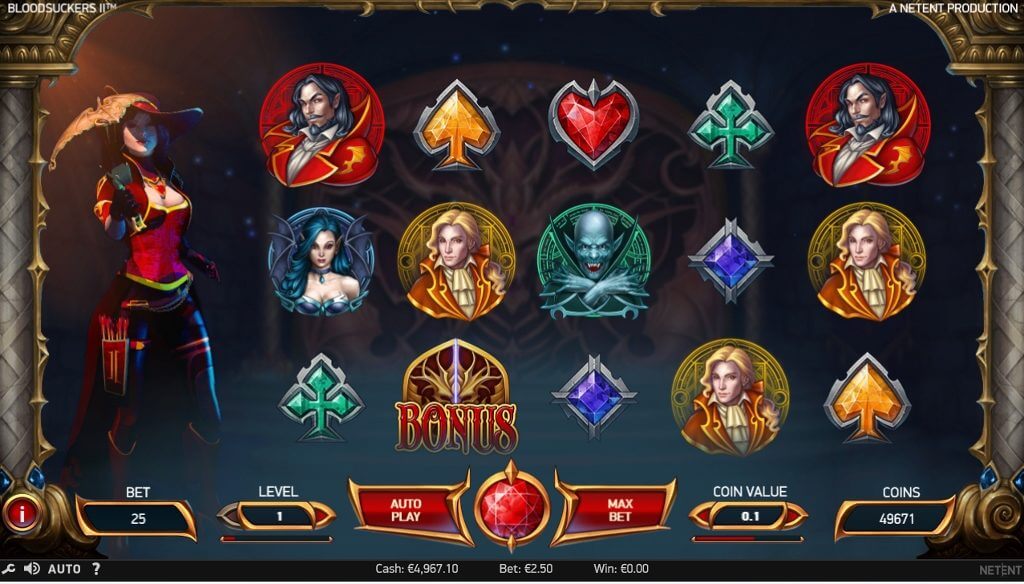 Bloodsuckers 2 Slot Tips & RTP %
Most of your wins on Blood Suckers II are going to come from the bonus rounds. So, keep your bets nice and small. You won't be winning that much unless you are in a bonus game, and the multiplier here seems to be high enough for you to make your money back quickly. You do not want to be blowing through your bank roll too fast, after all.
Bloodsuckers 2 Slot Review Summary
Blood Suckers II is a visually-appealing slot which is a riot to play for both newcomers and more experienced players. We can't knock it at all! This game is highly recommended by us. If you want to check out Bloodsuckers 2, all you need to do is head to a NetEnt slot site. We know that these are a dime a dozen.
Thankfully, you have the team here at New Slot Site who are going to give you a nudge in the right direction. We have put together a list of some of the greatest online casinos around. Make sure you check out this list as we are positive that there are one or two which are going to be awesome for you!
Where To Play Bloodsuckers 2 Slot