Guns N' Roses Slot Review
Guns N' Roses are easily one of the most popular rock bands from the 80s. In fact, they are probably the most 'rock' band ever. Sex, drugs, rock n' roll and arguments peppered the Guns N' Roses legacy. Now the original lineup is back together, which means it is time for our team here at New Slot Site to give you a bit of a review.
How to Play Guns N' Roses Slot
The Guns N' Roses slot was first released in January 2016. It was the first in several 'rock-themed' slots from NetEnt (we will discuss those in further reviews). The game offers 5 reels with 20 paylines. The minimum bet is 20p per spin. The maximum bet is £200 per spin.
If you love Guns N' Roses, you will love this slot. It feels just so 'rock'. Obviously, Guns N' Roses have put out some fantastic tracks. The reason why we love this slot is that you can flick between a multitude of different songs (1 or 2 from each era) and play them whenever you want. It is quite nifty.
The mobile version of the slot is even better too. The graphics are awesome. The sound is great (stick in those headphones), and the potential to win is big. It is a great thing to do on your daily commute, or even while slipping into bed at night.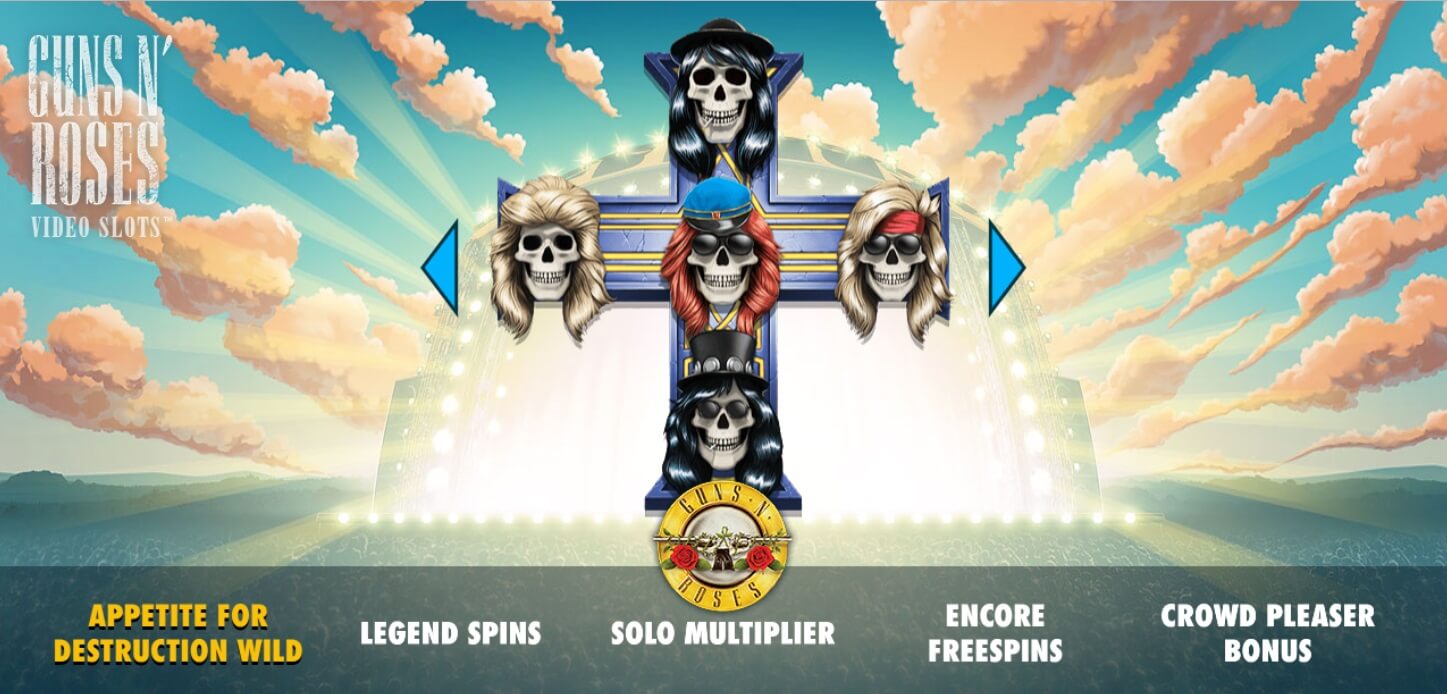 Guns N' Roses Slot Machine Bonus Features
There are a lot of features to be found in the Guns N' Roses slot. This is how you will nail most of your wins. As you will see in the next section, a lot of the wins we scored did not actually come from 'normal' play.
The first feature is the expanded wild. While the reels do not spin with expanded wilds on them, once you hit a wild anywhere on the reels, it will cover the entirety of the reel. This is fairly constant too. Barely a spin went by where we didn't have a wild like this.
In addition to this, there are three random features. Can occur on any spin.
Legends Spin (Feature One) You get 3 free spins. Each will have a different 'bonus'
Spin 1: Axl Rose on the third reel is wild.
Duff on reels 1 and 5 is wild.
Slash on reels 2 and 4 is wild.
Appetite for Destruction Wild (Feature 2)
The Appetite for Destruction symbol (a cross formed of 5 symbols) will be put on the reels. One free spin.
Solo Multiplier (Feature 3) Only occurs when you have a three or four of a kind win. You will be given a random multiplier of between 4x and 10x.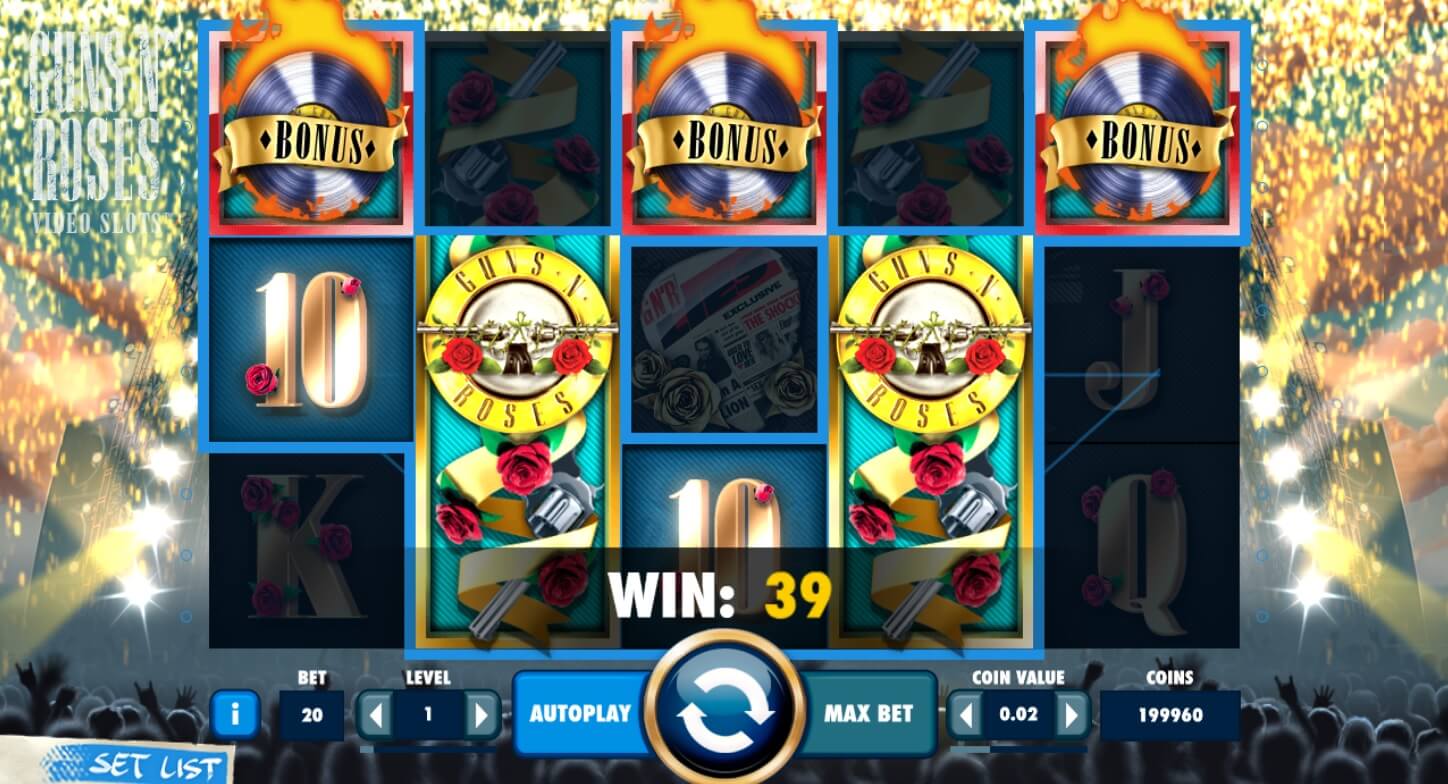 Bonus Features & Free Spins
When you get three or more vinyl albums on the reel, you will get either:
Encore Free Spins: one of three band members will be an expanded wild on each spin. 10 free spins.
Crowd pleaser click me: just click instruments to win cash and go through the floors.
Cash Coins: just a random sum of cash.
Guns N' Roses Slot Tips, RTP% & Jackpot
The Guns N' Roses slot offers a 3.02% house edge. This is down the lower end of the market when it comes to NetEnt slots. The part which is a bit different is that the slot is of a medium volatility. This can make it tough to come up with a decent betting strategy.
The team here at New Slot Sites have played this slot a lot. We can tell you that you are barely going to win a penny without triggering those bonus rounds. There are far too many of them.
Our suggestion is that you bet at a point that you are comfortable with. The bonus rounds are going to pop up frequently, but you do not want to blow through your wad too often.
We had a bank roll of about £50, which is probably far less than many of you have, but we were playing 50p per spin and getting most of this back. If you stick around the same point, then you should do well for yourself.
Summary of Guns N Roses Slot
If you want to check out the Guns N' Roses slot, then just hop on over to any NetEnt casino. Most of them should have it. If you fancy being a bit lazy, then the team here at New Slot Site have put together a list of some of the best places to play. Why not check it out?