Hall of Gods Slot Review
The Hall of Gods slot is a relatively old slot machine, but it has just been given a new lease of life by NetEnt. It was recently launched upon the world in mobile format. The game has not changed much, but it means that more people than ever can now sink their teeth into it. The theme probably needs no introduction; Hall of Gods Slot is 'Norse' themed, and although isn't the only slot with a Vikings theme out there (Take a look at the newer Viking's Slot by Netent) this game is the one which really packs a punch thanks to its progressive jackpot!
How to Play Hall of Gods Slot Machine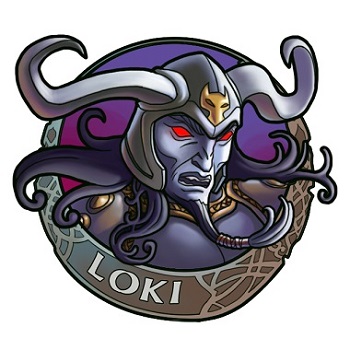 The Hall of Gods slot machine is a video slot from NetEnt. It offers 5 reels and 20 paylines. The minimum bet per spin is 20p. The maximum is £50.
This is a progressive slot machine. So, what does this mean? Well, it means that the maximum jackpot in the game is not 'fixed'. The more people that play the game, the higher the jackpot creeps. There are three jackpots with one of them being set at a minimum of a million pounds, although since Hall of Gods was given a mobile makeover recently, it seems to be climbing higher than that very fast.
This is an old game so, if we are going to be honest with you, it does not actually look that decent. Sure, the artwork (which appears to be hand drawn), looks wonderful, but it is not going to make you say "wow". Granted, most people never play slot machines for their design anyway, so this does not matter too much anyway.
Is Hall of Gods for newer slot players? Hard to tell. It is a NetEnt slot so it is not going to be dreadfully difficult to understand, thankfully. However, there are a lot more features than some of the other progressive slots they offer.
If you are new to the world of slots and want to check out Hall of Gods, then at least have a flick through the instructions before you spin. This way you know what is going on all the time.
Hall of Gods Slot Machine Bonus Features
Several features can be found in Hall of Gods. This includes:
Expanding wilds: this is a sea serpent symbol. It can only show up on the 2nd, 3rd, and 4th reel. As always, the wild acts as a replacement for every other symbol in the game (bar the bonus). The unique thing about the wild in Hall of Gods, however, is that it can expand to cover the whole reel if there is a chance of a prize, which is awesome.
Triggering The Jackpot Game
To trigger the jackpot game, you will need to get three bonus symbols on the reels at once. A screen will then pop up with a shield on. You then smash that shield with the hammer. In most cases, you will get an instant cash prize (between 20x and 60x your initial bet), but if you are really lucky you will get one of the three jackpots.
Free Spins Feature: The final feature comes in the form of three spins. If you get 3, 4, or 5 scatters you will get some free spins! The number of scatters will determine the number of spins. So, either 10, 15 or 20. There is a multiplier of 3x in place on this.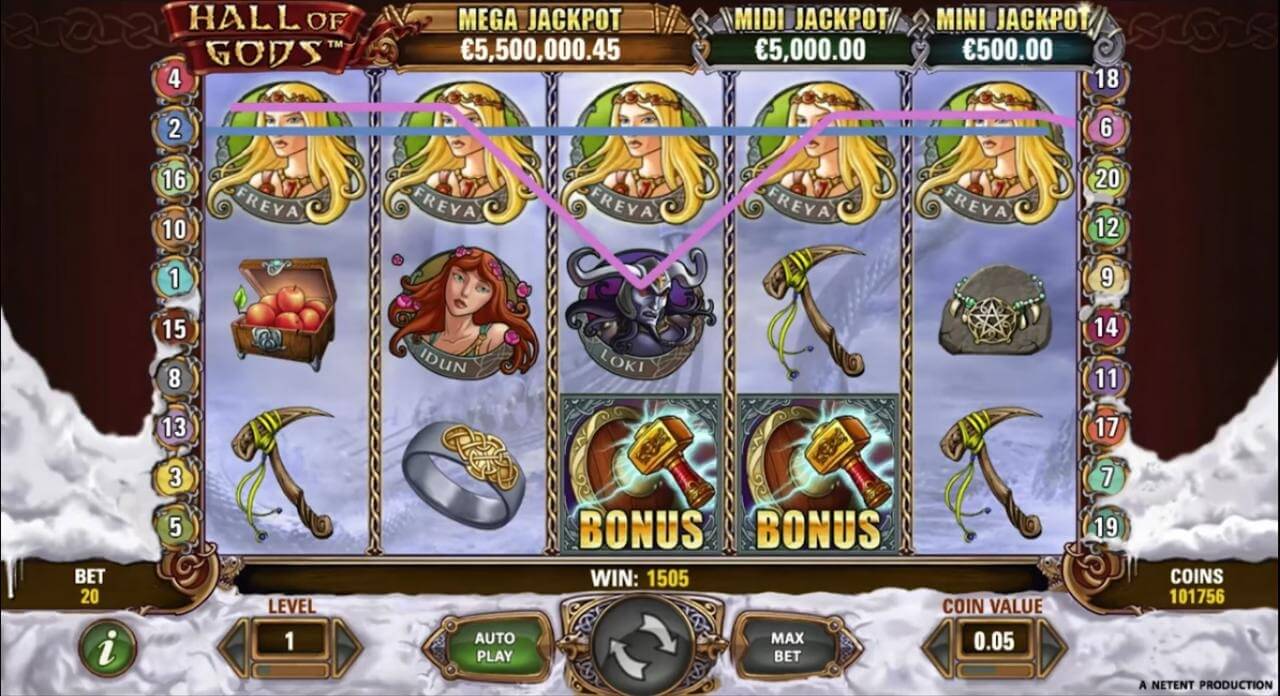 Hall of Gods Slot Tips, RTP% & Jackpot
The house edge on this game is 4.3% which is a lot higher than most other NetEnt slots you may encounter. It is a medium to low volatility slot.
Let's get this straight; you might not win the jackpot, it's totally random but you will encounter several other prizes along the way, though. Our betting strategy is to keep the bets low on Hall of Gods.
Your chances of winning the jackpot are not going to be swayed by how much you bet. You could become a millionaire on a 20p bet. Why are we suggesting you keep it low?
Well, because both the free spins mode and the 'instant cash prize' mode offer a substantial amount of cash for even the smallest of bets.
Hall of Gods Slot Summary
Hall of Gods is a decently fun progressive slot. Maybe not the most lucrative that NetEnt have ever released, but it is still great fun to play. The team here at New Slot Site give it a spin on occasion. You should too.
The Hall of Gods slot can be played on any site which offers NetEnt games. If you want a few suggestions for some amazing places to play, then the team here at New Slot Site have put together a few suggestions below. You would do well to check them out. All these sites have been vetted by us, and all offer some of the best bonuses in the world of online casinos!
Where To Play Hall of Gods Slot?