Hotline Slot Review
Hotline slot from NetEnt is probably one of the more unique slots that you are going play this year. We are not just talking about the cool retro vibe that it boasts either. Well maye a little bit. Remind you of anything, does it?
How to Play Hotline Slot Machine
The Hotline Slot machine from NetEnt offers 5 rows and 30 paylines (and 3 lines, which will come in important). It was first unleased on the world in March 2018. The minimum bet per spin is 15p. The maximum is £450. The amount you will bet will dictate your chances of winning, but more on that in a short while.
The game is designed to be retro. In fact, the game is based around the Miami Vice series, although this is never expressly stated. Just think nice and bright colours. Basically, think of the most 80s things possible and you are going to find it in the Hotline slot machine. The theme is not actually that groundbreaking, but it comes from NetEnt so you know that it is going to be good.
While the feature that we discuss in the next section may seem complicated, it is not. The Hotline slot has been designed to pull in people who may have played a video slot before but are looking for something a bit more complicated as a 'stepping stone'. Experienced players will also get a fair amount out of the Hotline slot machine, mostly because the feature it has is so unique that it offers a completely new betting strategy to learn.
Hotline Slot Machine Bonus Features
The whole of this game is built around the Hot Line. Each spin, you can designate one of the lines as the hot line. If you wish to choose the other two, then you will need to pay more. So, if you choose two lines then you need to pay double your bet. If you want to choose all three (highly recommended), then you will need to pay triple your bet.
Everything that you do in this game is going to be based around the hot line. The first will be the wilds feature. Whenever a wild lands on the hotline, it will expand to cover the whole reel. This means that you stand an even bigger chance of winning some cash. Of course, the more hot lines you have active, the more expanded wilds you get.
If you get a wild on a hot line, which is going to be simple if you have all three hot lines active, then the game will award you with a free respin. These respins will occur with the wild remaining stuck to the reels. You will continue to receive these respins until you run out of new wilds landing on the reels.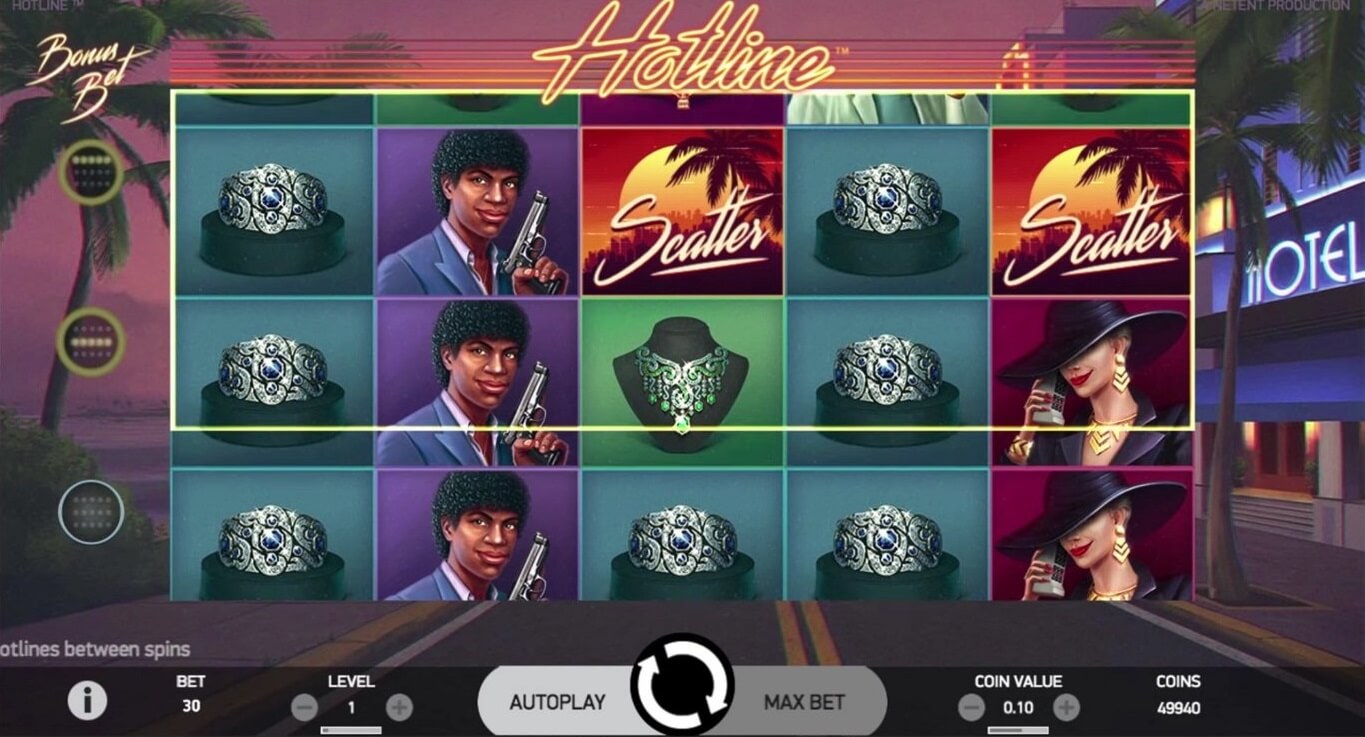 Hotline Slot Machine Tips & Rtp %
Hotline slot is different to any other slot which has come before it. Honestly, in our opinion the playing strategy for this slot is simple; have all three hotlines active at once.
Yes, we know that this means that you are going to be paying triple the bet, but you have more chance of winning on each spin (because of those expanded wilds and the respin), which means that you have more chance of recouping your losses.
It is not just a small 'extra chance' either. It is a massive extra chance. So, because you are going to be betting three times the stake on each spin, then you will probably want to bet close to 15p, which means 45p total on each spin. You won't win all the time, but you should be able to keep going long enough to at least break even. What's more, Hotline slot has a very nice 97% rt % which is higher than average for most Netent slots.
Summary of Hotline Slot Review
The Hotline slot machine does things different to the other slots on the market. We know that not everybody is going to be a massive fan of the hot line feature of the game.
However, we love when slot companies, especially NetEnt, step outside of their comfort zone. While it is still early days for the Hotline slot machine, we have no doubt that this is a game which is going to receive a lot of praise come the end of 2018. Not just from the team here at New Slot Site, but from the plethora of other casino game reviewers out there.
If you wish to play the Hotline slot machine, then head on over to any NetEnt slot site today. If you need a few suggestions, then there are plenty of sites that our team have vetted listed below.