Mega Fortune Slot Review
Mega Fortune is one of the most well-known progressive jackpot slots online. It's a first generation progressive jackpot slot from Netent that was released in 2008 and has subsequently made many over night millionaires since then.
What is Mega Fortune?
Mega Fortune is an online progressive slot. A progressive slot means that the jackpot is ever increasing pound by pound until it's won, where it'll then reset itself and start again. The jackpot keeps on growing because every player that bets and wagers on it will contribute to the 'pooled' jackpot.
Mega Fortune is designed with a glitzy and glamorous theme. The backdrop could be movie spot lights from Cannes or Monte Carlo. On the reels expensive luxury items are depicted, including Champagne Bottles, expensive Rolex type watches, cufflinks, cigars and even brandy snifters! Soundtrack wise, it's perfect, albeit a little bit cheesy – but you'll love it!
Is Mega Fortune Legit?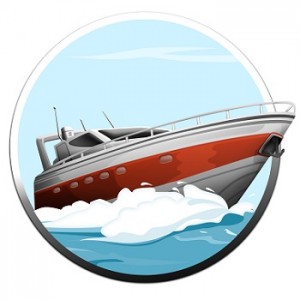 Mega Fortunes main rival is Microgaming's Mega Moolah Slot, another leading online slot which also offers a multi-million jackpot. Many peoples first reaction when they see how big these progressive jackpots can grow to, ask the question "Is Mega Fortune slot legit?'.
We can understand why people do have this reaction, it almost sounds too good to be true, but the Mega Fortune Jackpot is 100% legitimate!
Just take a look at what happened in 2015 for example. Mega Fortune was won by a lucky Finnish casino player, playing at a well-known Scandinavian online casino.
He won £17 Million – the biggest win to date on an online slot. Just look it up and you'll see hundreds of results.
Although not every jackpot reaches this high level, the jackpot Mega Fortune is still a very lucrative jackpot to hit!
How To Play Mega Fortune
Mega Fortune is an easy slot to play and is perfect for all types of player. Mega Fortune is designed with 5 reels and 25 pay lines, with the minimum bet being 25p and the maximum £50 per spin. To play Mega Fortune, you'll need to play at a casino site which offers Netent games.
The good news is that most casino sites offer Netent games, just make sure they offer Mega Fortune, or even the sequel that Netent released in 2013, the tropical themed Mega Fortune Dreams. If you're stuck for quality suggestions, take a look at our recommended casino sites below.
Load the game and set it so that you're playing within your preferred betting ranges, and push the spin button to bet started!
There are quite a few features which you'll encounter when you pay Mega Fortune Slot, including a free spins game, scatters and of course the bonus wheel which is where you'll have a chance to win a progressive jackpot.
Mega Fortune Free Spins Feature: You can trigger this feature by getting 3 Champagne Symbols anywhere on the reels. If you do, you'll need to pick a champagne bottle. It's a click and pick feature. One champagne bottle will give you some free spins and a multiplier; one will give more free spins (up to 10) with up to a x5 multiplier, but you can also trigger the Mega Fortune bonus game here too.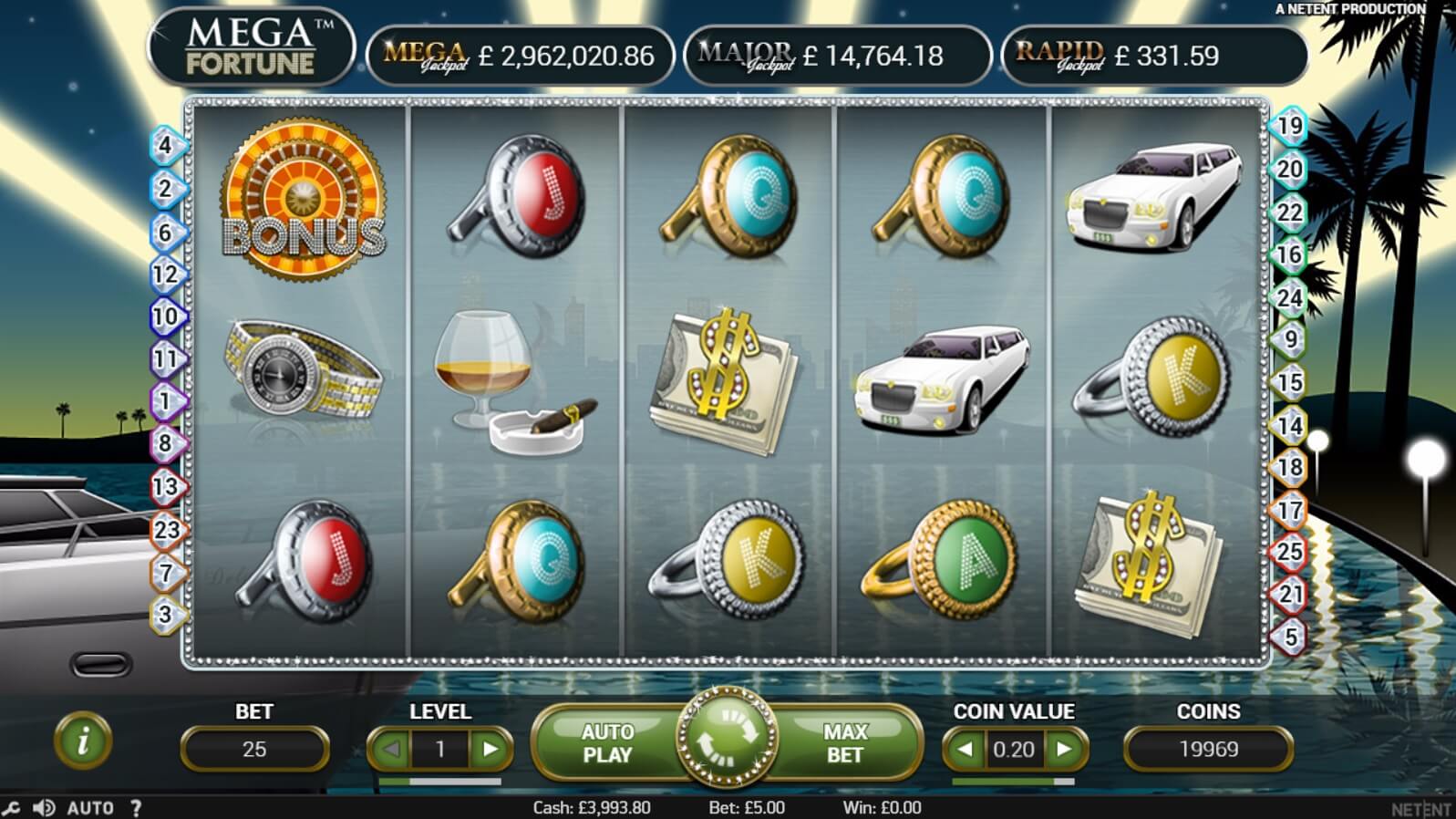 How To Win The Mega Fortune Progressive Jackpot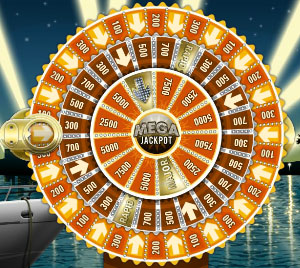 The best part about Mega Fortune slot is the bonus wheel feature which is where that mega jackpot is lurking. You can trigger the bonus wheel feature by landing 3 consecutive bonus symbols on consecutive reels.
Manage this and a grand looking wheel will pop up onto the screen which actually contains 3 concentric wheels, each offering cash prizes and a jackpot, with the middle one being the main multi-million mega jackpot!
The idea is to stop the wheel spinning on an arrow which will lead you to the 2nd inner wheel, which offers higher cash prizes from local jackpots, or an arrow to the inner wheel where you can line up and aim for the Mega Fortune progressive jackpot.
It's at this part of the game where it becomes extremely exciting; known that a million pound jackpot could be 3 clicks away!
Mega Fortune on Mobile
Mega Fortune is accessible on all phones and tablets and offers a fantastic casino experience on the go. It's really exciting knowing that a multi-million jackpot could just be round the corner.
The Mega Fortune Touch edition lacks no feature from the desktop version of the game. Mega Fortune mobile slot is a highly recommended mobile game for those looking for massive pay-outs.
Mega Fortune Slot Review
Mega Fortune Slot is a household name among casino players these days. It's a timeless slot and has a certain character to it, mainly due to its age. It's a little bit cheesy, but that's what makes it brilliant at the same time!
The return to player rate for Mega Fortune is a decent 96.6% and we love that the hit rate gives you plenty of smaller wins to keep you engaged, whilst holding out for that bonus wheel to appear.
You'll find that the free spins game also crops up quite frequently and will help your balance with some decent multipliers too. Mega Fortune is one of the best progressive slots for a reason; there's nothing else we can say!
Where To Play Mega Fortune Slot