The Phantom's Curse Slot Review
The Phantom's Curse slot was released in Janauary 2018 to which some could say is 'long awaited' if you consider that the game was tipped to be released in Autumn 2017 under the name "The Phantom of Opera Slot".
That slot didnt materialise for various undisclosed reasons (Microgaming also released their own Phantom of The Opera Slot based on the Lloyd Webber Musical around the same time, so it's highly likely that has something to do with it). So let's see what The Phantom's Curse Slot is all about, shall we?
How to Play The Phantom Curse Slot
The Phantom Curse slot machine offers 5 reels and 40 paylines. To get started, you will need to stump up a minimum of 20p per spin. You can bet up to £200 per spin, with various 'bet levels' in between these points. So, it should not be too hard to find a level that you are comfortable with betting at.
The Phantoms Curse is a slot in the Universal Monsters series although, of course, there is no actual movie called 'The Phantom Curse' if you consider that other slots in the series have a matching movie (The Invisible Man Slot, Creature from The Black Lagoon Slot, Dracula Slot all are movies too) so this just backs up our theory that Netent intended the release their own The Phantom of The Opera Slot based on the Universal Movie from the thirties.. but there was clearly a spanner in the works, or they just didn't want to be second best because Microgaming's is pretty awesome (with the famous soundtrack too!)
As with most NetEnt slots nowadays, this game seems to be designed for mobile devices. Sure, it will work on your desktop computer, but it will really come into its own if you crack it open on your tablet or smartphone. The already pretty graphics look even better. The gameplay is as smooth as butter too. No complaints here.
The Phantom Curse Bonus Features
There are three different features for you to enjoy in the Phantom Curse slot machine. This includes:
Masked Phantom Re-Spin: if you get a stacked phantom, which can only occur on the 1st reel, and a stacked mask, which can only appear on the 5th reel, then these symbols will be frozen in place and become wilds. The game will then respin. It does not occur often, but when it does it should give you some cash.
Free Spins: this feature is not that much different from the original. You will need three chandelier scatters to trigger it. As you play, you will notice that there are chandeliers above each reel. When you get a phantom on that reel, the chandelier is cut. When all five chandeliers have been cut, the free spins mode is over.
Pick and Click: the final feature. If you get a phantom on the 1st reel and Christine on the 5th reel, you will be taken to a pick and click game. Several cash prizes and multipliers for you to win here. Lots of cash on offer, and it seems to trigger fairly often too (well, often considering the volatility)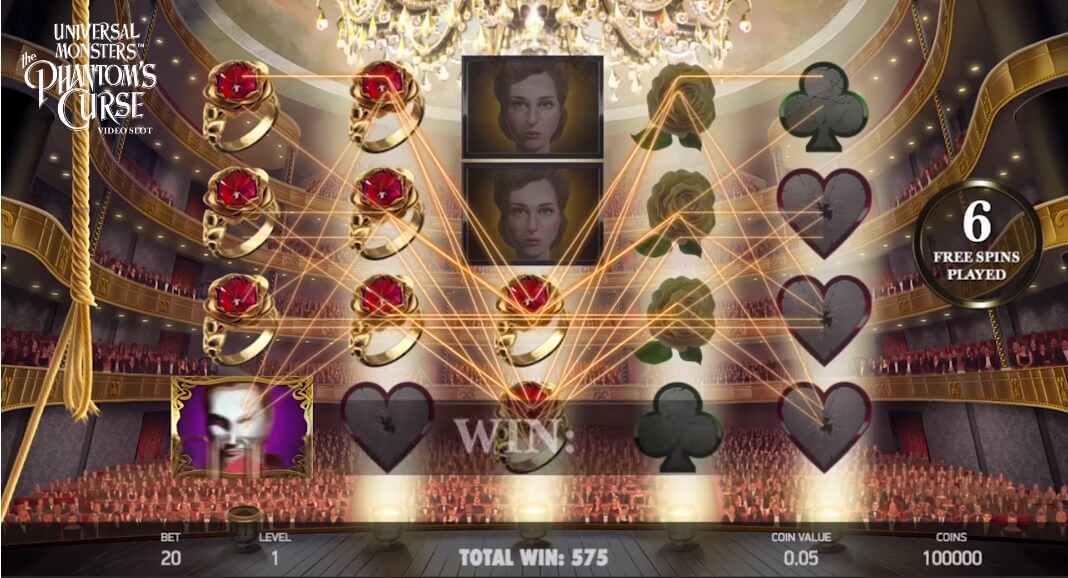 The Phantom Curse Slot Machine Tips & Rtp %
This is a medium to high volatility slot machine, which is par for the course when it comes to NetEnt at the moment. If you regularly read our Netent reviews, then you will know that we have a great deal of difficulty when it comes to coming up with a playing strategy for this medium to high volatility slots. Our best suggestion, as always, is to bet at a level which you are comfortable with.
The bigger prizes are locked behind features which means that it may take a fair while for you to see any return on your money, so keep those bets low. This is not a slot where you can win repeatedly.
It is very much 'slow and steady wins the race'. If you had a betting strategy for the previous game, then use the same one here. The game is not that much different.
Summary of The Phantoms Curse Slot
While The Phantom Curse slot is not bad in any form, it's a slot that doesn't really differ from many other Netent classics either. You have some cracking features in this game, including free spins and a fab "Click & Pick" feature but we found that although fun, it's lacking that spark.
Perhaps it's because we were expecting a Phantom of The Opera Slot from Netent and then they re-named it...randomly... or the fact we just love Microgaming's version better. Having said that, there's no real complaints from us either.
Of course, if you want to play The Phantom Curse slot yourself then we say give it a go, but you will of course need an online casino with Netent games. These are not tough to find thank fully. If you need a couple of suggestions, then the team at New Slot Site thrown a few together below.