Twin Spin Deluxe Slot Review
Played the original Twin Spin slot machine? Well, think of Twin Spin Deluxe as the 'upgraded' version. Same sort-of thing, just far superior graphics. The team here at New Slot Site want to take a look at what it brings to the table.
How to Play Twin Spin Deluxe Slot Machine
The Twin Spins slot offers 6 reels. Rather than the traditional payline structure, it pays out in clusters. The minimum bet is 10p and the maximum is £100. So, a bit on the cheaper side when it comes to NetEnt slots, at least in comparison to some of the ones that have popped up as of later.
We will cover the main feature of the game in a short while. For now, it is not that much different than the original game. In fact, when we cover the main feature, you will realise that the game is not different in the slightest. The only major difference is that it looks so much better. It has a real retro vibe to it.
On mobile devices, this game really is fabulous. In fact, we reckon that NetEnt gave Twin Spin an upgrade just so that it could be played on mobile devices. So do check it out!
Much like the previous game in the series, this game is not particularly complex. You spin the reels. You win money. That is it. There is no thought that will need to go into playing this game beyond how much you want to bet per spin (check out the slot tips section for more information on that part!)
Twin Spin Deluxe Slot Machine Bonus Features
As with the previous game in the series, the main feature in Twin Spin Deluxe is that two reels will spin together. This means that they will always land on the same symbol. You will be most of the way towards a combination here! In some cases, more than two reels will spin together. In fact, if you are exceedingly lucky (and I mean you must be exceedingly lucky), then all six of the reels will spin together.
The major difference is that this version of the game does not have a pay line structure and instead pays out in 'clusters', which is not too bad. I certainly prefer it like this as, in my head, it gives me more possible win options.
That is about it on the feature front. As I said; there is no really anything majorly different to the initial version of the game. The only difference is the clusters. This means that you have no other features.
However, honestly, on occasion we do love to play ourselves a game which is quick and easy to understand. Twin Spin Deluxe certainly fits the bill in this regard!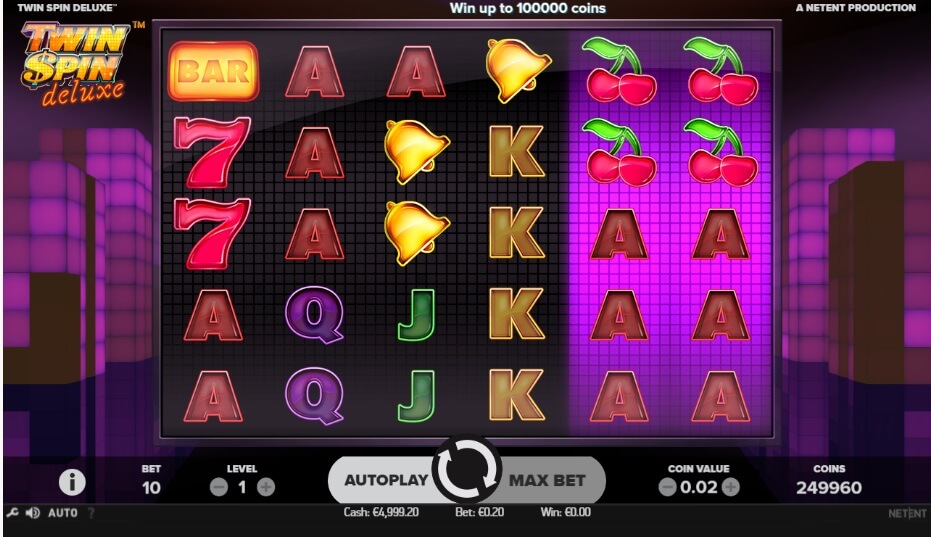 Twin Spin Deluxe Slot Tips & Rtp %
Since this is a medium to high volatility slot, we suggest that you tone back the amount that you are betting each time. You are not going to win astonishing amounts of cash constantly. You could easily go a good 10-20 spins without seeing anything on the reels. This is why you need to ensure that you stretch your bank roll as far as you possibly can.
Keep the bets low, and play for a longer period of time. You can win up to 1,000x your initial bet, so it is probably worth it! Even if you are just betting at the 10p mark, this is still £100.
Summary of Twin Spin Deluxe Slot Review
Of course, Twin Spin Deluxe does not really bring anything new to the table in the world of slots. It is much the same as the initial Twin Spin, just looks a little bit slicker. Not that we are complaining, the original game was a ton of fun if you wanted a few mindless spins, so we reckon that most people should love this version of the game. We certainly do!
To check out the Twin Spin Deluxe slot, you will need to head to somewhere which offers NetEnt games. Luckily for you, it is not dreadfully difficult to find them. There are plenty of sites which offer NetEnt slots. The tricky part for you is to find somewhere that is worth playing. There are a couple of suggestions below!