Reactoonz Slot Review
Energoonz, for some obscure reason, was one of the most popular slots last year. It was not bad by any stretch of the imagination, it was incredible amounts of fun, but it always baffled me that there were so many people playing a game that was based around cartoon characters. Anyway, Reactoonz is the follow-up to that game.
How to Play Reactoonz Slot Machine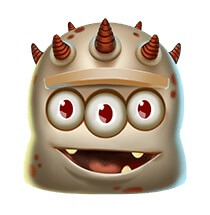 This slot was first launched in October 2017. It is 5 reels and all ways pay. The jackpot is £457,000 with a house edge of 3.49%. To get started, you will need to plump up 20p minimum with a £100 maximum bet in place.
If you played Energoonz, then the overall style of the game is the name. Tons of cute cartoon characters. You will feel right at home. If you have never played the original, then I promise that you will find Reactoonz looks brilliant. In fact, this game has so much colour that it puts a smile on my face on even the darkest of days. This is a game which really does feel 'right at home' on a mobile device.
This is clearly a slot which has been designed to pull in the crowd that never normally plays mobile slots. Most of the cartoon games are. So, it is very much one that plays itself. While there are a few features in place, which I am going to talk about in the next section, none of them are going to be crazily confusing, thankfully.
Reactoonz Slot Machine Bonus Features
As mentioned previously, this is an 'all ways pay' game. If you get a cluster of 5 symbols, you win. In addition to this, Reactoonz has cascading reels. Basically, whenever you form a winning combination, the winning symbols disappear and new ones fall into their place.
This means that you could potentially win multiple times on a single spin. This happens often too. Sure, the first win is not going to come in that regularly, but when it does you can be assured of a couple of follow up wins.
Each time you win in Energoonz, the small meter on the screen will charge up. Once this is charged, you will have one of four features trigger (or sometimes are for). These are all random. The features are very much similar to the Emoji Planet slot if you have ever played that, albeit this is not a game about collecting certain symbols which does make Energoonz easier in some regards:
Implosion: between 3 and 6 symbols will turn into wild symbols.
Alteration: one of the symbols (the lowest paying ones) will be turned into a higher paying symbol.
Demolition: all low paying symbols are destroyed.
Incision: adds a wild to the centre of the reel.
If you trigger all four features, you also trigger the Gargantuan feature. This gives you a massive 3x3 wild symbol on the reels. If you do not win, then there is a chance a wild symbol will be random dropped onto the reels.
Finally, if you get four matching symbols in a square, they form a larger symbol which can deliver more wins, although this is not something which triggers all that often, to be honest.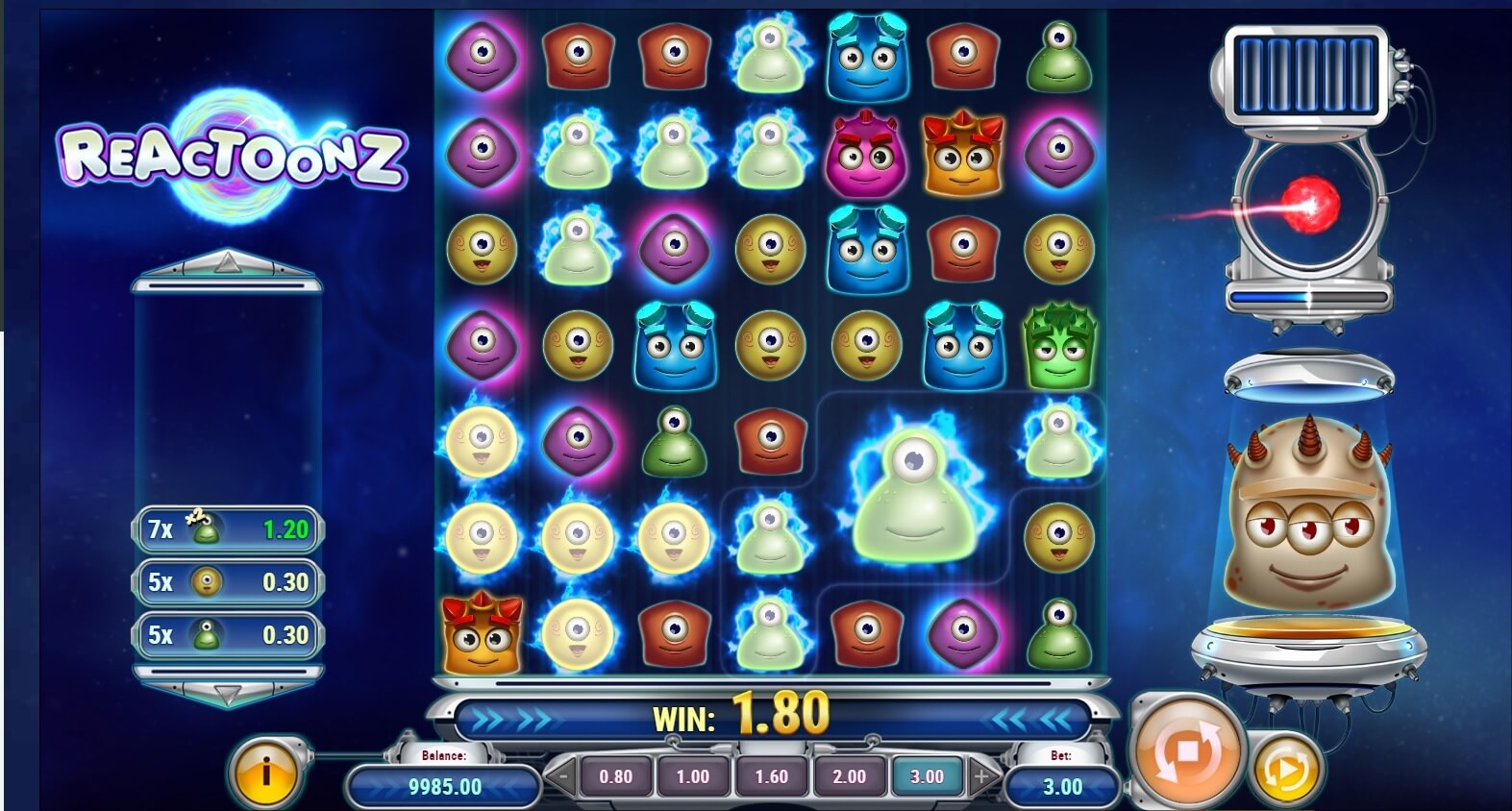 Reactoonz Slot Tips & Rtp %
Reactoonz has a 96.1% Rtp % and is considered a high volatility slot which means it should be really simple to know which way to bet. This is to bet small. You are not going to win on most spins. If you bet high, you are going to be blowing through your bank roll quite quickly.
The big prizes are there, but it is a chase to get your hands on them. Basically, if your bank roll is anywhere close to £50-£100, then bet the minimum. That is how I managed to win most on this slot.
Summary of Reactoonz Slot Review
With plenty of features to get your teeth stuck into, Reactoonz is an awesome game. It is let down by the fact that it is a high volatility slot, which does limit the number of people that can play it i.e. those with lower bank rolls.
If you want to play Reactoonz, then you will need a site to play it on. Thankfully, there are oodles of slot sites that you can get your teeth stuck into. However, if you need a top quality site that has passed our 'inspection', then any of the ones you find listed below should be good.