Jungle Books Slot Review
Yeah. Don't ask me why it is called Jungle Books when the book that it is based upon is not plural. But, let's be honest, that does not matter too much. What matter is whether you are playing a good game or not. In my opinion? Yep! Read on to find out more.
How to Play Jungle Books Slot
Jungle Books is a slot released by Yggdrasil in September 2017 and follows on from Yggdrasil's popular Chibeasites 2 slot. It offers 5 reels and 68 paylines. There is also a wealth of different features to sink your teeth into, but we will come to those in a short while! The minimum bet per spin is 50p. The maximum is £100.
I am not going to lie to you here; I don't actually think that the slot looks that good. I know that Yggdrasil does not have the budget available that other companies have, but you would have thought that they could put in more effort. In the past, Yggdrasil have crafted some of my favourite slots. This one is just a whole lot of green. Thankfully, it is saved by the features that it does have.
That being said, this 'hatred' is something that only really applies when you are playing on a desktop computer. The slot does look a whole lot better if you boot it up on your mobile device, so that is nice! It is still not perfect, but it works.
As you are about to discover, there are more features than you can shake a stick at. In fact, there are so many different combinations that it is unlikely that you will see them all. For that reason, I don't think that Jungle Books really is a slot for beginners. It can be tough to start to understand some of these features, particularly since they are changing at every turn.
Jungle Books Slot Machine Bonus Features
There are five different characters in the game. These characters are tied to a 'realm'. Every few spins, although the number is not set in stone as it could be anywhere between 10 and 100, the realm changes. The realm change is important because when it does switch up, a new feature is brought into play.
The Panther: secondary wild from the highest paid symbol in the game, random multiplier of between 2x and 5x on a spin.
The Tiger: winning symbols remain as a sticky on the reels. You will then get a free respin. There will also be a stack of wilds added to the reels.
The Boy: reels that are the same height are synced up. Every time you get a wild, an extra 1 or 2 will be added to the reels.
The Snake: win both ways. All winning combinations which have a wild pay out 3x.
The Bear: extra bonus symbols which pay out cash. One symbol on each spin will be stacked.
In addition to this, a character can randomly be added to a realm. One of their two features will be added to the reels for a couple of spins. This means that you have well over 40 different bonus features in the game.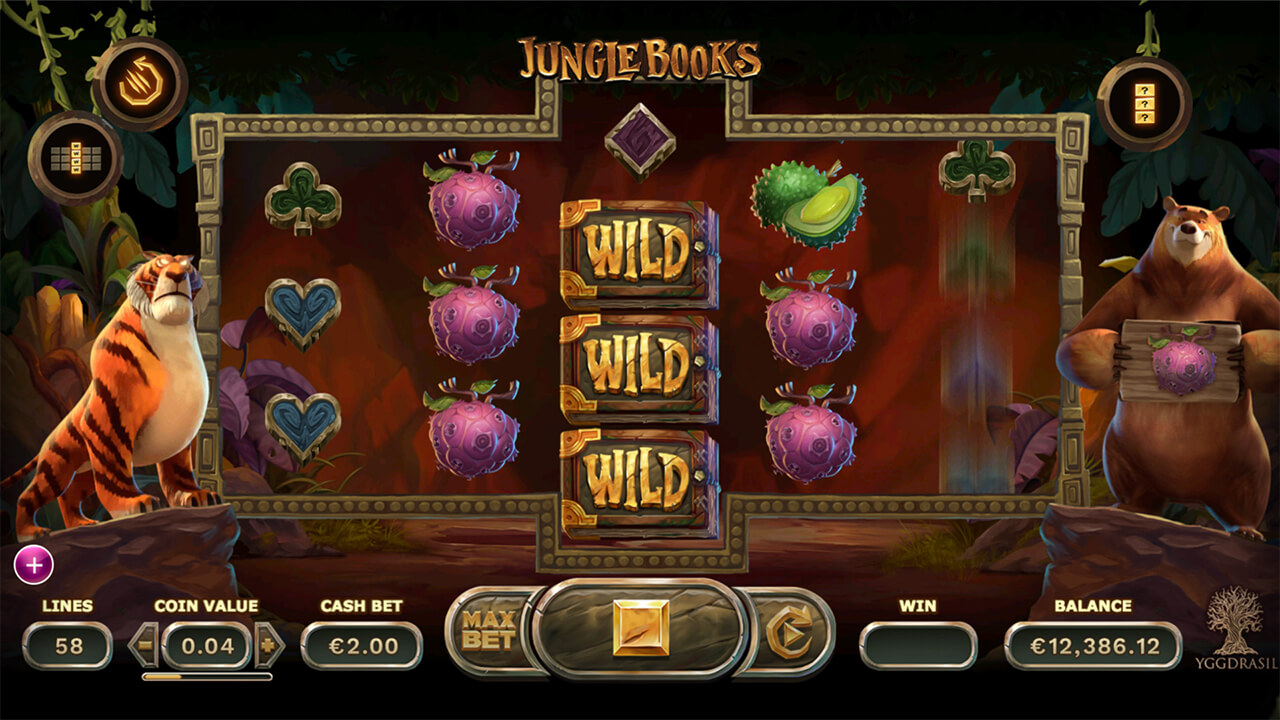 Jungle Books Slot Tips & Rtp %
This is a medium volatility slot with a 3.9% house edge.
Due to the realms feature, it is easy to tell you how to bet. If you are ever on the snake feature, then bet as high as you feel comfortable with. The fact that it pays out both ways means that you should be able to net a bit more cash. With the bear symbol, then stick with the low bets. The wins are (or do not seem to be) influenced by the amount of cash you are betting. Well, they are, but not as much as the symbols that you get.
You will also want to bet high if you have both the snake and the panther feature in play. Although, Jungle Books tends to have a high minimum bet anyway, so you are probably not going to wish to be gambling that much higher.
Summary of Jungle Books Slot Review
With over 40 different potential features in this game, every spin brings something different to the table. What is not to love? Sure, there are no free spins (well, there is a free respin), but who cares? The game is a huge amount of fun! You can check it out on one of the websites below, which we guarantee as being sage, fun and full of value for all types of casino player.